Become a Certified Professional Trainer with CPT College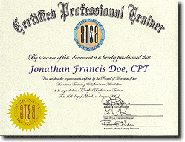 ATSA's Certified Professional Trainer College is an intense, information-packed course designed to empower you, the speaker/trainer. Graduates of the CPT College can earn more money, and get more bookings.
Our staff will obviously not teach you your material ... you're the expert on that. We will , however, teach you how to teach your material. We will give you the tools with which you can get through to your audience and keep them interested, give you ideas on how to get and keep them involved, as well as organizing and producing complimentary materials such as handouts, quizzes and certification.
Now only $499.00 for this exciting package which includes a free membership in the AmericanTraining & Seminar Association.
After payment is received you will receive an email with your passcode to begin taking the course.